So, I haven't posted anything since February. I have a lot of half written posts, and a lot of ideas, but haven't been able to finish anything. So, here's me getting out of a rut by writing some rubbish (soz).
As usual, life is a rollercoaster (must be sung in Ronan Keating way). Past couple of months have included everything from funerals to new babies – the whole spectrum of human life one might say, if one was being a twat. Anyway.
Here's some stuff that happened –
A haircut.
Migraines.
Baked some cakes.
Went to see a night of YFC entertainments. We LOL'd.
Did make up and prompting for two performances of a play.
Two funerals.
Used a jukebox for the first time in yeeears. Hello S Club 7.
Read the book 'It's All Absolutely Fine' by Ruby Elliot aka. Rubyetc. (link here) it's excellent and you should read it.
Went to a quiz. Did not win the quiz.
My sheep started lambing, lambs were born, all the sheep have now lambed. Aaaand sleep.
One parking ticket.
Rediscovered Fat Freddy's Drop. Essential 'driving in sunny weather' music.
Finished the first bit of work I've done since July 2015. (Thanks Robbie, hope it's alright!!)
Straightened my hair.
Took a LOT of naps.
Had a complete failure of a day when I was supposed to be visiting a Riding for the Disabled Association riding centre, to deliver a cheque that we raised for them, in memory of my friend. Sometimes emotions just hit you, and there's nothing you can do about it.
Heard the new Elbow song Gentle Storm and it is the most beautiful song and video and it's actually rivaling One Day Like This to be my favourite Elbow song.
Got a horrible cold and thought I was dying of a horrible illness. It was just a cold.
Saw some live music.
Had a couple of show stopping panic attacks that rendered me unable to move.
Survived all the panic attacks.
Had some lovely conversations with some lovely people.
Went on a day long Confidence Building course and was bloody pleased with myself.
Fed the animals approximately twenty billion hundred times.
Read the book Milk and Honey by Rupi Kaur (link here) it's excellent and you should read it.
Drove myself to an ESA meeting, by myself, went to the meeting, drove home. SUCCESS.
Did some lambing for a neighbour, despite being fucking terrified of being responsible for like 400 sheep.
Wondered if my anxiety will dictate my life forever, and if it will then what is the point?
Had £187.57 stolen out of my bank account. Turns out PayPal is NOT as safe as they tell you.
Appreciated some Maya Angelou quotes, such as "Try to be a rainbow in someone's cloud"
Lost half a stone in weight, don't even know how, am now eating copious amounts of peanut butter. (ps. This is a BAD THING, the losing weight. Don't be all 'I wish I could lose weight that easily blabla', it's not fun and it's not a good thing to happen to me).  Side effect of debilitating anxiety disorder, and also migraines. Bleugh.
Met up with two of my best friends.
Thought that my bones were made of matchsticks during one strange panic. My sister squished me because she saw on Grey's Anatomy that it might help.
Read Melissa Broder's book So Sad Today (link here) it's excellent and you should read it.
Started an Instagram account to go with this blog, see below
Took a million selfies with tiny lambs and filled my phone up until it wouldn't work. Regret this zero amounts.
Went to the pub, several times, drank a lot of orange juice.
My friend had a baby girl, she is absolutely perfect and I can't wait to meet her. I cried when I heard.
Took a lot of photos of blossom.
Made pancakes.
When I write it out like that, it looks like I did a fair amount, and a lot of good things. But the things that stick are the illnesses – the cold, the migraines, the panic attacks. They make a bigger impression. But it is good to be able to look at that list and think hmm yer, I did those things.
Also, the Instagram; I'm not sure why I never did this earlier, because memes, humour and sarcasm are great tools to deal with anxiety. There's a lot of "laugh or you'll cry" situations and there's some joyous, hilarious and very relatable stuff out there. I am mostly reposting some of the fantastic artwork and illustrators that I've been following for years who make me feel like I'm not alone. Hopefully people will find a bit of comfort, or at least a laugh, in it. Find it here @imfinethanksblog
It's full of things like this –
And here's a photo of the eldest lamb, Haf. Just because she's cute.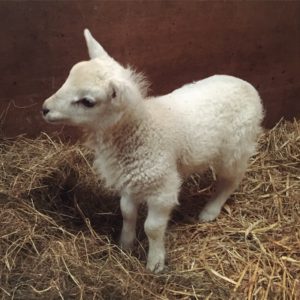 Thanks for sticking with me, more useful blog posts to come soon ? x